About the Program
The 'High Value Home Consultant' (HVHC) Program consists of five (5) online learning modules and related materials. This specialized training program provides important knowledge, terminology and best practices for professionals performing high value home property reviews or inspections in order to confirm essential information about the home for insurance companies.
HVHC's five (5) learning modules require the completion of 15+ hours of online learning plus reviewing related handout materials. Each HVHC online course contains detailed information specific to reviewing high value home exterior and interior features along with risk and exposure components. Each online course also contains interactive screen elements, full narration and knowledge checkpoints. A sketching course simulates a digital sketch conversion of the graphing draft of the home's exterior features and measurements.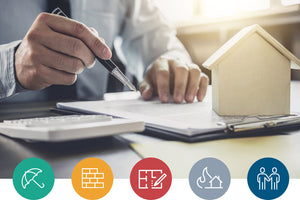 The five (5) HVHC Program learning modules are:
Module 1: Homeowners Insurance Fundamentals
Module 2: Home Construction Features and Quality Assessment
Module 3: Home Measurement and Calculating Area
Module 4: Insurance Company Underwriting Concerns
Module 5: Client Interaction and Professionalism
Each module contains multiple online courses and supportive handouts. A certificate of completion will be granted upon full completion of the curriculum.
Note: The course content serves as foundational knowledge for reviewing high value homes. The intention of this content is to be supported with additional mentoring/coaching and specific company guidelines. This content does not signify any future individual quality performance factors or capabilities.